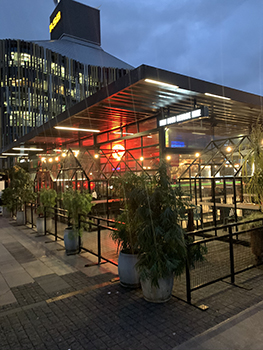 New Zealand business Winter Gardenz has pulled off the impossible by constructing glasshouse dining structures overnight for The Good George Brewery in Wynyard Quarter, Auckland.
By Brooke Hunter
Miann's Chocolate Factory in Morningside, as well as Good George's North Wharf restaurant, have set up glass greenhouses to ensure diners are kept at a safe distance from each other.
With the help of a local glasshouse company, Winter Gardenz, the venues were able to have the new features installed within 24 hours after the installers worked through the night.
Auckland, NZ Dessert
We are now releasing bookings for our Winter Garden Glass houses at our Miann Chocolate Factory in Morningside, taking your bubble to the next level, come and enjoy a chocolate dessert experience in our glass house, Hot Drinks, epic desserts and a gorgeous setting. We are taking only booking for up to 6 people at present.